Maison Mixy inc
Tablecloth Antique rose Collection 60'' x 84''
This tablecloth with romantic and timeless patterns of roses on a denim blue linen background will dress your table in a classic way in all circumstances. It matches with the napkins of the same collection whose central rose allows very beautiful creative tables. It goes well with more modern and more ancient decors, it creates a soft, welcoming atmosphere, and conducive to pleasant dinners lasting around the table.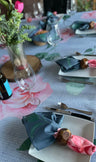 Tablecloth Antique rose Collection 60'' x 84''
Nappe Rose antique
La nappe est magnifique mais je crois que la longueur est 82, et non 84. Elle est vraiment juste pour ma table.
Ma mère a adoré ses nappes!!!
Des fleurs pour une fleur🌹🌹🌹